Nevada Central Media had the privilege of working with the University of Nevada Cooperative Extension to develop a new website for their Lincoln County office – with the goal to enhance their online presence, increase user accessibility and highlight key features of the UNCE programs.
Problems This Project Addressed
The University of Nevada Cooperative Extension provides a variety of essential services to the Lincoln County Nevada community. The office's programs include:
Local Food, which helps further sales of Lincoln County foods and provides food production education.
Workforce Development, which helps adults and at-risk youth expand their career opportunities.
Health & Community Development, which helps community members eat better, be active, and stay healthy.
4-H, which runs youth clubs with dozens of volunteers and hundreds 4-H members. The office worked with 34 percent of the total youth ages 5 to 18 in Lincoln County in 2016.
The UNCE Lincoln County office was in need of better methods to communicate with the community it serves. The program leaders hoped to utilize digital tools to inform residents about upcoming events and the variety of opportunities available. Nevada Central Media worked with organization leaders to create a new web portal to accomplish their goals.
Tasks Nevada Central Media Performed
Nevada Central Media designed a new website for the Lincoln County office. Lead designer Rydan Banis created a site that welcomes and directs visitors to pages for the four major programs of UNCE Lincoln County. Emphasis was placed on easy navigation, showcasing the latest news from the office as well as direct links to its programs. This site integrates with Google Calendar, MailChimp, Facebook, and Twitter, so as UNCE staff post to the site, automatic updates are sent to subscribers through email and social media.
Nevada Central Media's work included website concepts and proofs, hosting setup, WordPress installation, website design, content integration, third party service integration, website review and testing on multiple browsers and devices, website launch, analytics installation, and training of UNCE staff on the use of the site.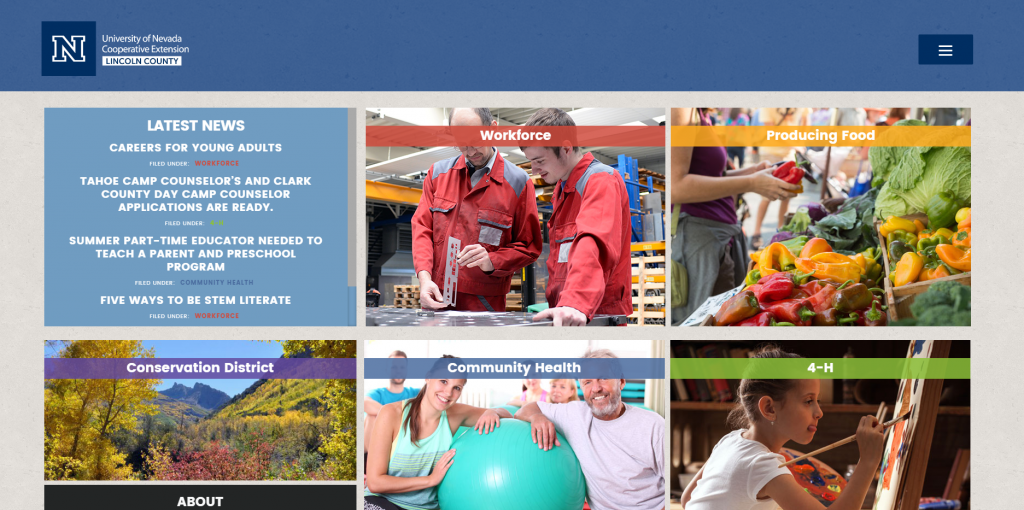 What's Next
Nevada Central Media continues to work with UNCE Lincoln County staff on adding content to the website and will handle the maintenance of the site moving forward. We're excited to continue working with this great organization as it serves the community.