Beaver Dam Gravel Grinder
Nevada Central Media recently helped promote a fantastic event in Lincoln Country, the Beaver Dam Gravel Grinder. The Gravel Grinder is a fat tire experience that takes riders through 45 miles of beautiful backcountry. This year's Gravel Grinder was last month, and with Nevada Central Media's help the event achieved great results, including doubling the amount of participants compared to last year.
Web Updates
Nevada Central Media was in charge of updating LincolnCountyNevada.com with details about the Gravel Grinder and placing it on the site's calendar. This included selecting and modifying imagery to be displayed on the event pages and on the home page, adding details to the event pages and linking to the event registration site.
Marketing Strategy
In cooperation with Nevada State Parks and NCOT, Nevada Central Media prepared a marketing plan for the Gravel Grinder. We first identified potential participants as those living within a two or three hour drive of the event location, who are interested in outdoor adventure. We then selected appropriate advertising mediums, which included:
Digital billboards in Las Vegas
Email advertising to the Las Vegas market
Publications in surrounding communities
Targeted marketing through Facebook.
Executing the Plan
Nevada Central Media negotiated and booked advertising in the St. George Spectrum, Boulder City Review, Tonopah Times and Cycling West.
We also set up digital billboard advertising throughout the Las Vegas valley and we sent out four different boosted Facebook posts. Our team designed the artwork, wrote the copy and tracked the results.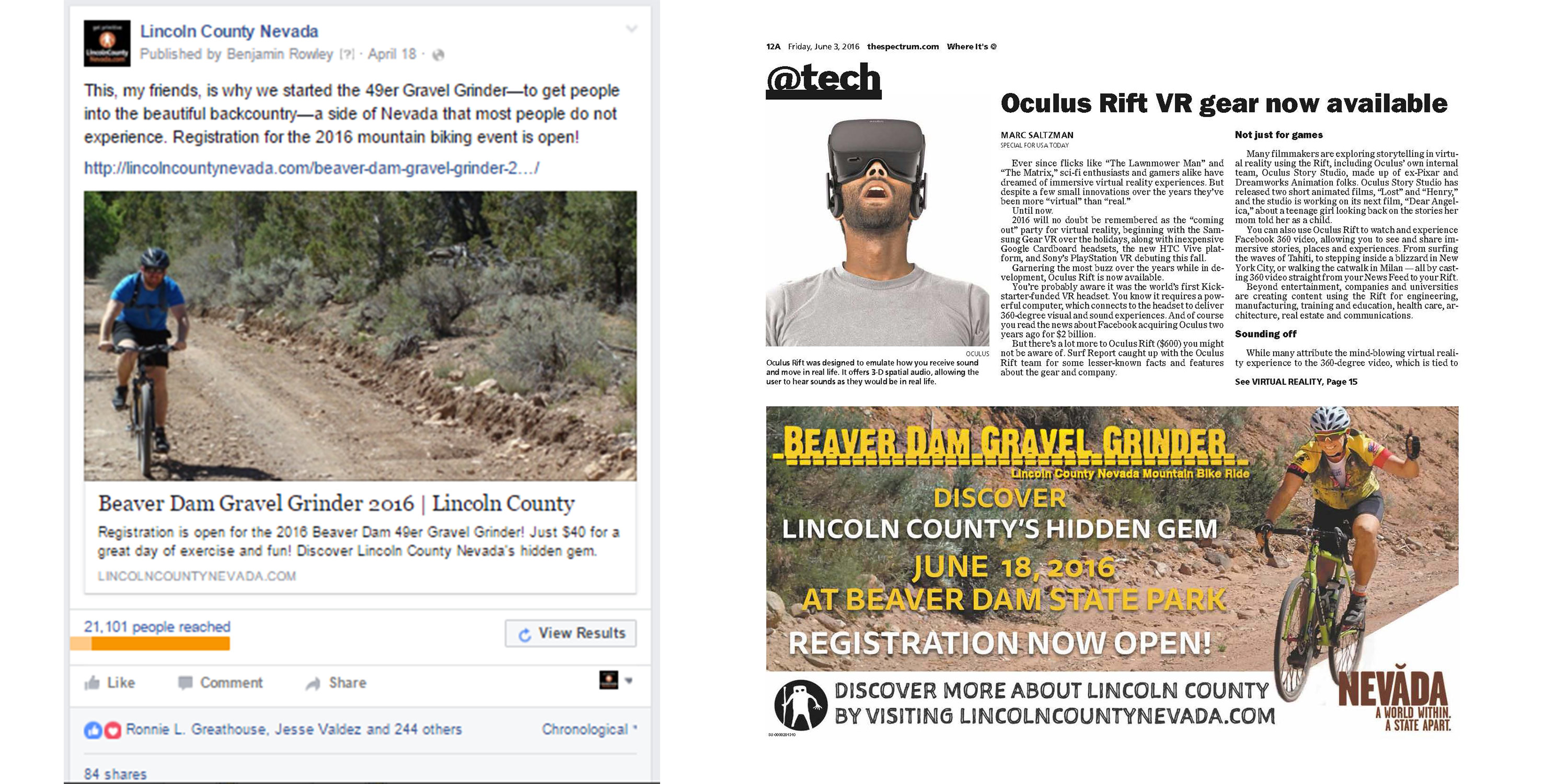 Results
These efforts yielded many positive results. The event was promoted to tens of thousands of individuals throughout the region. People were highly engaged on Facebook, commenting about their excitement for the event and sharing the information with their friends. LincolnCountyNevada.com's Facebook page picked up hundreds of new followers. Traffic on LincolnCountyNevada.com more than doubled compared to last year during the same time frame. And an event preview was also published in Cycling West. Most importantly, event participants doubled from the previous year.
What Participants Had To Say About The Event
Those who came said they had a fabulous time. The Lincoln County Record spoke with participants who came as a direct result of our efforts. Here's one example:
"First timers Tim Olsen and Tina Findlay of Henderson said they came on this ride because they enjoy camping, 'and also put our sporting events around camping. We love mountain biking and saw this notice on Facebook and one of the local Las Vegas cycling websites and thought it would be perfect for us. It was fun, well organized and everyone was amazing.'"
Here's another:
"Gary Bocarde of Cedar City said he saw the notice of the Gravel Grinder in the Cycling West publication and it looked like it would be a fun thing. 'It's a great event, but it's a grinder, too. Challenging, lots of steep hills, but a good, well run, well marked event. It was fun to meet new people during the ride.'"
This puts Nevada State Parks in a great position to continue the event and build on this year's success. We had a blast promoting this event and look forward to working with the great people of the state parks, NCOT and LCAT to continue promoting Lincoln County and growing tourism here.
Lincoln County, Nevada is becoming recognized as an ideal destination for bicycling enthusiasts. Nevada State Parks, in cooperation with the Nevada Commission on Tourism (NCOT) and the Lincoln Communities Action Team (LCAT), has been instrumental in attracting cyclists to the area with two exciting events. One obviously being the Beaver Dam Gravel Grinder, which was a huge success.
The other event is the Park to Park Pedal, a skinny tire century ride that takes participants through four of the five state parks in the county. The event brings hundreds into the area, with the sixth rendition slated for October.
NVC Media prides itself on helping rural businesses and organizations succeed in all aspects of marketing and communications. We are here to grow local communities and help organizations reach their goals.
For More Information About NVC Media and How We Can Help Make Your Event A Success – CLICK HERE