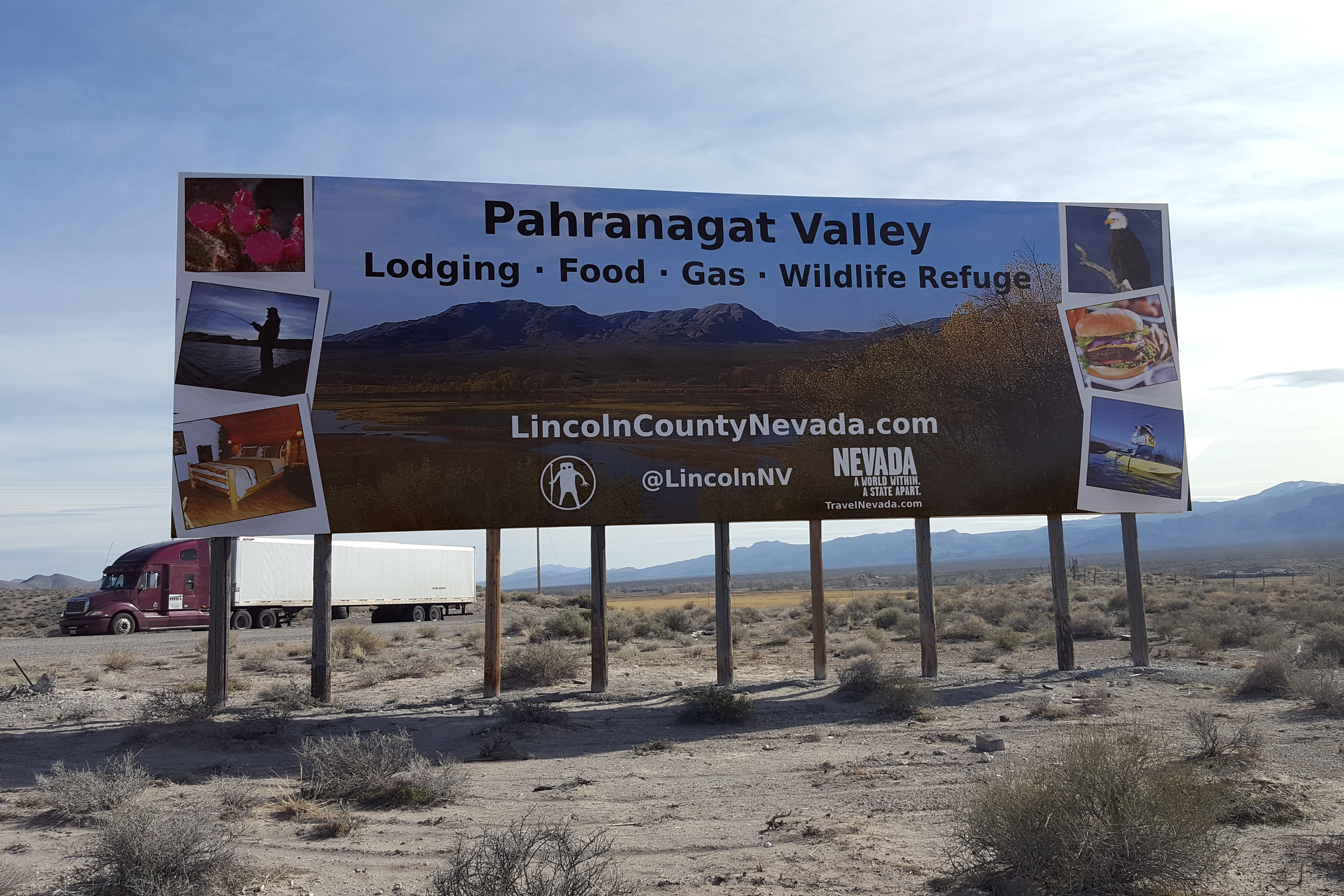 A major part of any business-related success is quality advertising. Unfortunately, rural businesses sometimes get overlooked because of poor advertising or just missing out on opportunities to enhance their advertising space. Nevada Central Media had the opportunity to help a few rural communities enhance their business visibility by spearheading the recent Hiko, Nevada Junction billboard project. Below is a summary of NVC Media's involvement and the success of the project.
Problems This Project Addressed
The existing, south-facing billboard at the Highway 93/318 junction was completely faded. This is an advertising asset that directs travelers to go through Lincoln County en route to Ely on the Great Basin Highway, or Scenic Route. With that advertising missing, travelers were less likely to take the scenic route and enjoy the great towns and attractions in Lincoln County, and local businesses were missing out on a lot of potential customers.
The north-facing side of the billboard was unused, creating missed opportunities to inform travelers on what's available in Pahranagat Valley as they make their way to Las Vegas and encourage them to take advantage of the services available in the valley.
Tasks Nevada Central Media Performed
Nevada Central Media re-designed the faded side of the billboard and created a new design for the unused side. This task included procuring photography and editing images, illustrating a new design for both sides of the billboard, creating succinct copy that effectively informs people as they are traveling at high speeds, coordinating with the Lincoln Communities Action Team board on billboard drafts and implementing feedback to revise designs.
We successfully presented a billboard plan to the Lincoln County Room Tax board to acquire necessary funds to combine with funding from the Nevada Commission on Tourism in order to replace the existing side, build the new side and add solar lighting.
We researched and found a sign installation company, Verry Best Signs, and coordinated with them for the sign printing, providing the designs in a format that would print well on 48×16-foot banners, and installation.
What's Next
Nevada Central Media is now researching solar lighting options and will coordinate the installation of lighting. We will be measuring highway traffic to see if traffic on Highway 93 increases after the installation of the new signs. We are continuing to work with LCAT to bring visitors to Lincoln County in order to strengthen this rural economy.
We are excited about the future projects within Lincoln County and how we can help rural business and the local economy grow. If your business or organization needs any assistance with marketing, advertising, or communication please contact us more to learn more about how Nevada Central Media can help.